A New Media Group Dedicated to the Art and Science of Rewards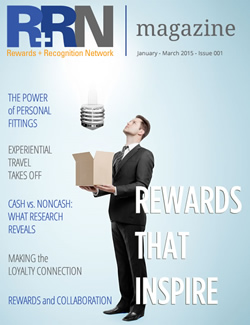 A fully integrated multi-platform information and marketing service for those engaged in the Rewards and Recognition Industry.
The industry's only media service with access to comprehensive, real-time redemption data and trends.
As corporations and their solution providers seek ever more effective ways to build one-on-one relationships with customers, employees, distribution partners, and more, there is a new demand for specialized award experiences, customization, and personalization.
Carefully designed and delivered award programs are proven Engagement tools but require the right information and suppliers to succeed. The Rewards Recognition Network at Rewardsrecognitionnetwork.com makes it easy for anyone involved with rewards and recognition to get the information they need, when they need it, based on the new ways people consume information today, including e-mail, digital, tablets and laptops, desktops, print, and in-person.
The Rewards & Recognition Network is the first media service in this space to provide information and analysis based on anonymous aggregate data provided by the Universal Rewards Exchange compiling information related to top products redeeming now from hundreds of programs.
A New Information and Marketing Service Designed for Today's Realities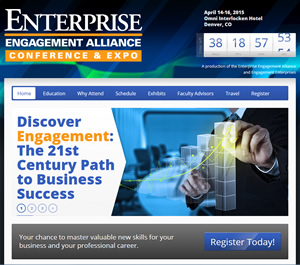 Web, digital, email, social media to reach 30,000-plus ad hoc or occasional rewards and recognition buyers.
Quarterly print edition to reach 15,000 "power buyers," i.e., management at incentive, loyalty, recognition, promotion, and meeting planning companies involved with sourcing, recommending, or purchasing rewards and recognition.
The Right Information, The Way People Want it
Rewards and recognition buyers need trustworthy data and information in bite sizes on demand on the hottest trends, concepts and ideas via their phones or computer; they need complete information on your product or company when they are ready to buy or recommend it, seek an easy way to interact with you when they need to, and they need to know where to buy.
The Rewards Recognition Network content is based on actual aggregate fulfillment data from leading companies to help our editors help buyers identify what's hot and new to target key demographic and lifestyle groups and where they can buy it.
Sellers need to get their offerings in front of buyers when they are in a buying mode; have the latest ammunition always available on hand for their advocates trying to sell their products or services to clients or management, and make it easy to buy.
Business today is all about building relationships—It has never been more difficult to do so in an era in which no one ever picks up the phone. The Rewards Recognition Network helps create and build relationships.
The Rewards and Recognition Expo
A unique boutique event bringing together leading brands, solution providers, and corporate practitioners to share creative ways to engage through reward programs.
To Advertise
Contact Nick Gazivoda at nick@theeea.org; 914-591-7600, ext. 238