EEA Social Media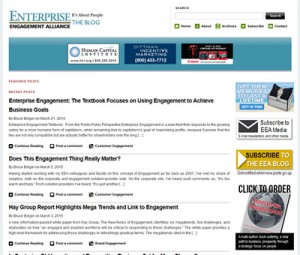 The EEA manages the following social media services:
Enterprise Engagement Blog
Regular insights and perspectives on research, news, trends, companies and people.
Wikipedia
The EEA established and maintains Enterprise Engagement page on Wikipedia to help provide the basis for definitions and general understanding of the field. Suggested updates are always welcome.
LinkedIn
A community of people interested in being updated on and posting questions or issues related to enterprise engagement
Peoplecentricenterprise.org
A web site featuring the winners off the first People Centric Awards, corresponding Linked in and Facebook pages where people can comments on the winners or suggestion nominations for next year, and tell us about their own organization's efforts in the area of engagement.