Engagement Agency Support Platform For Engagement Solution Providers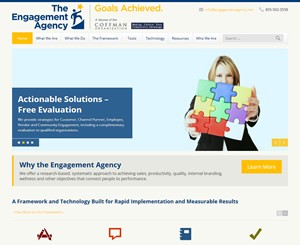 Everybody's talking about engagement, but how many companies can deliver clear solutions? Let the Engagement Agency help you profit from this exciting new movement we're proud to have seen coming long before anyone else. Created by the founders of the Enterprise Engagement Alliance, The Engagement Agency is designed to help all types of engagement solution providers profit from this new field with minimal investment.
Everybody's talking about engagement, but how many companies can deliver clear solutions?  The Engagement Agency helps companies profit from this exciting new movement.
What You Need
Here's what solution providers need to succeed in this new world of engagement:
A clear plan for how your company can generate more revenues and profits from engagement.
An understanding of engagement economics, principles, and an implementation framework to help clients design programs with measurable results in sales, marketing, human resources, etc.
An integrated business development strategy to generate leads that includes a web site, sales materials, ongoing communications, sales outreach, and a local event to a targeted database.
A plan for how your organization will profitably onboard engagement clients, create engagement business plans, and make sure they are properly implemented on a profitable basis for your client and your company.
The Engagement Agency Solution
Here's what the Engagement Agency provides.
A clear, easy to implement framework based on the Enterprise Engagement Alliance textbook and implementation framework for helping your clients use engagement principles to get a better ROI from traditional loyalty, promotion, and recognition programs.
Training for everyone on your team on how to identify opportunities to use engagement principles to address client needs and sell more of what you already sell.
A clear business model for generating more revenues through fees and consulting, or for justifying higher markups for rewards.
A turnkey branding, thought leadership, database development, ongoing thought leadership program, telephone follow up process, and even an event to open doors and build relationships.
Assistance with proposal writing and sales presentations to close business, and program implementation as needed until your team has on-boarded our expertise.
Assistance identifying and integrating other types of engagement solutions as needed outside of your company's core competencies, to make sure you control the relationship.
The Engagement Agency's sole purpose is to help you profit from the engagement movement in the way that makes most sense for your business and that minimizes your risk or investment. We can provide highly flexible solutions based on your needs.