Who Are America's Most 'People-Centric' Companies?
These 25 firms surpass all others when it comes to strategically engaging their employees, customers and communities based on an independent analysis of over 400 U.S. publicly held companies.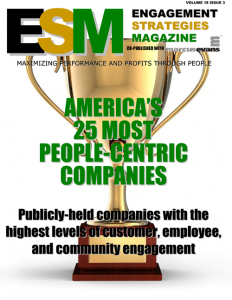 These are the Top 25 Most People-Centric publicly held companies in the U.S. in 2015, based on a detailed analysis of independent research by McBassi & Company, a leading human capital analytics firm.
People-Centric companies seek to achieve their financial and other goals by strategically engaging their employees, customers and communities. No company is perfect and engagement is relative: These companies are judged to be not only the best companies to work for, but also the best to do business with as a customer or community member. Click here to learn about the methodology.
Please tell us your thoughts about these companies or recommend other great companies on Twitter or Linked in.
| | |
| --- | --- |
| Abbott Laboratories | Hershey |
| Amgen | Intel |
| Anadarko Petroleum | Johnson & Johnson |
| Bristol-Myers Squibb | Marathon Petroleum |
| Celgene | Marriott International |
| Clorox | Medtronic |
| Colgate-Palmolive | Nordstrom |
| Costco Wholesale | PPL |
| Dominion Resources | Principal Financial |
| Eli Lilly | Southwest Airlines |
| General Mills | Union Pacific |
| Goldman Sachs | United Parcel Service |
| Google | |
"At a time when corporations and capitalism are under increasing attack, we're pleased to tell a positive story about the companies that clearly are dedicated to achieving success through people," says Bruce Bolger, Managing Director of the Enterprise Engagement Alliance, which provides education and diagnostic tools for organizations utilizing Enterprise Engagement strategies to achieve their goals. "Being on this list doesn't mean that the companies are perfect or have never done anything to offend a customer, employee, or community member. What it means is that the organization is dedicated to achieving success through people instead of in spite of them."
METHODOLOGY
The People-Centric list of companies was chosen by identifying those firms with the highest combined scores (compared to competitors within their industry) as a "good employer," a "good seller," and a "good steward." The analysis uses two sources of information to make the "good employer" assessment: the Fortune list of Best Places to Work (a positive indicator) and employee ratings collected anonymously by the website Glassdoor.com, which can be either a positive or negative indicator. The "good seller" rating was also based on two sources of information: customer evaluations rating companies by quality, fair price and trust (provided by research firm wRatings) and customer satisfaction data from the American Customer Satisfaction Index (for firms for which this data was available). The ratings for community engagement are based on a eight different sources ranging from the Dow Jones Sustainability North American Index and Newsweek Green Ranking to the New York Times list of top CEO compensation to Biosphere Institute's List of the World's Most Ethical Companies.
THE ECSI
The Engaged Company Stock Index contains additional highly rated companies that did not make the top 25 list in order to create a broader, more diversified portfolio more suitable for investment purposes. The ECSI was created to draw attention to the compelling connection between an organization's relationships with customers, employees and communities and its subsequent performance in the stock market. The Index uses the Good Company Index™ developed by human resource analytics leader McBassi & Company to track organizations based on their business practices as sellers, employers and stewards of communities and the planet. The ECSI has outperformed the S&P 500 by 38% in the 19 months since it was created, and by a similar margin for the six years prior.
THE EEA
The Enterprise Engagement Alliance (EEA) is a coalition of companies and associations dedicated to the concept that engagement is an enterprise-wide endeavor that "begins with people and ends with profitability." The EEA's primary mission is to support education and outreach that creates a better understanding of how organizations can make the connection between engaging people in business and long-term financial performance. The EEA was founded in 2008 on the premise that the engagement of all of an organization's key audiences – customers, distribution partners and employees – is a critical but often overlooked success factor for businesses.