The First Information and Learning Center for the Implementation of Stakeholder Capitalism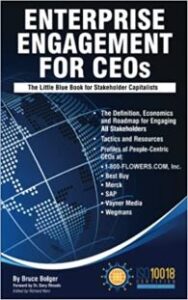 What makes this Stakeholder Capitalism and this information, learning center and community unique? Explains Ralf Specht, Co-Founder, Spark44, an international ad agency, and author of Building Corporate Soul: Powering Culture & Success with the Soul System, "CEOs have been saying for years that people are their No. 1 asset, but as we all know, employee engagement remains low throughout the world. Leadership is not just about empathy or humility: it requires a strategic and systematic approach to day-to-day management—a system."
This one-of-a-kind resource, education, and information sharing organization is designed for educators, boards, CEOs and the C-suite, investors and all managers at organizations seeking to benefit from the last bastion of value creation: the contribution of all your stakeholders—customers, employees, supply chain and distribution partners, and communities. Unlike other organizations and education programs, the EEA Stakeholder Management and Enterprise Engagement education program focuses on the alignment of management and engagement practices across the enterprise, rather than looking at human resources and marketing in siloes.
Business leaders worldwide are talking about Stakeholder Capitalism. The EEA information resources and learning platform focus on how to implement the principles of Stakeholder Management and Enterprise Engagement through:
News and information: Ongoing reporting on the field through:
Education and certification. The EEA has created the first executive education program on the implementation principles of Stakeholder Management and Enterprise Engagement by world-recognized pioneers in Stakeholder Management and Enterprise Engagement—the theory, framework, and practical implementation of Stakeholder Capitalism principles by fostering the proactive involvement of all stakeholders and through effective internal and external human capital reporting.
Outreach. Through its own media platforms and in cooperation with other organizations, the Enterprise Engagement Alliance and its Brand Media Coalition focus on activities to educate management around the world on the principles of Stakeholder Management and Enterprise Engagement, and the critical strategies, tactices, and resources required for success.
Advisory services. The EEA provides access to expertise in all areas of strategic and tactical implementation for human capital gap analyses; process design and measurement; and human capital reporting.
Books. EEA individual and corporate memberships include copies of the six books in the core Stakeholder Management and Enterprise Engagement curriculum.
Stakeholder Management, by Edward Freeman. The theory and principles of stakeholder management from the academic founder of the field.
Grow the Pie: How Great Companies Deliver Both Purpose and Profit, by Alex Edmans. The financial principles of Stakeholder Capitalism based on research.
Building Corporate Soul: Powering Culture & Success with the Soul System by Ralph Specht, on the new approach to leadership and culture in the world of stakeholder management.
Humanizing Human Capital: Invest in Your People for Optimal Business Returns, by Dr. Solange Charas and Stela Lupushor. The information needed to drive today's people-oriented organization.
Enterprise Engagement: for CEOs, by Bruce Bolger. The practical guide for executives seeking to bake stakeholder management into current organizational processes.
Enterprise Engagement: The Roadmap, by Bruce Bolger, Allan Schweyer, and Richard Kern. A detailed guide to all the tactics involved with stakeholder management.
For more information. Contact Bruce Bolger at 914-591-7600, ext. 230 or Bolger@TheEEA.org.